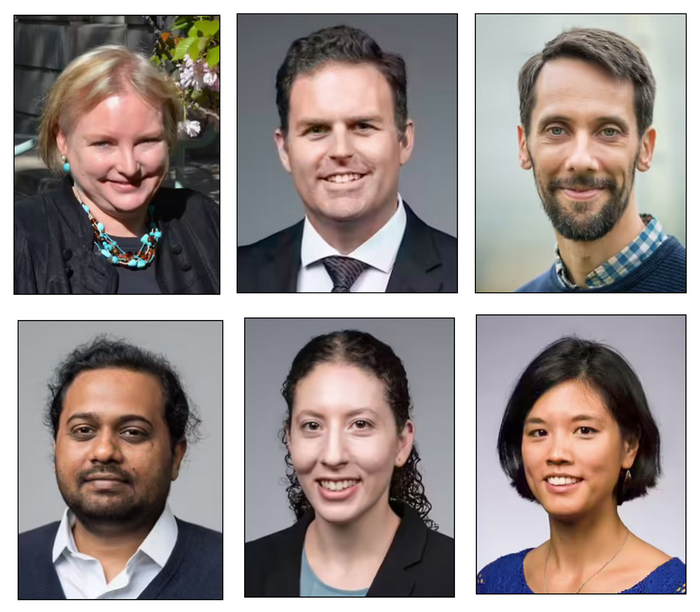 Five Hajim School of Engineering and Applied Sciences faculty members at the University of Rochester have received National Science Foundation CAREER awards this year, a school record.
Cynthia Gary, assistant dean of grants and contracts for the Hajim School, played a key supporting role.
All five recipients—Thomas Howard, associate professor of electrical and computer engineering; Ross Maddox, associate professor of biomedical engineering and neuroscience; Sreepathi Pai, assistant professor of computer science; and Andrea Pickel and Jessica Shang, assistant professors of mechanical engineering—participated in the annual summer NSF CAREER "boot camp" launched by Gary in 2016.
The boot camp provides junior engineering and computer science faculty with background about the award and tips for submitting proposals.
"Part of the success of the bootcamp is that younger faculty members can listen to previous CAREER recipients and learn from their experiences," Gary says. She even keeps a repository of successful proposals.
"Everyone's experience is different, so it's helpful to hear about a variety of perspectives and approaches that were all ultimately successful," says Pickel. "I'm really grateful to other faculty who were generous in sharing their proposals, and I'm now happy to share mine and pay it forward."
Her CAREER will support her research on adapting a Nobel Prize-winning optical "super-resolution" imaging technique to generate accurate, high spatial resolution temperature maps of the surfaces of nanoscale devices. This could help pinpoint hot spots that cause thermal failure.
Pai says the boot camp made him aware of the NSF's strong emphasis on proposals that show broader impact. The boot camp helped him connect with the University of Rochester Kearns Center to put on basic coding workshops for Upward Bound students.
Pai will develop automatic performance tuning algorithms to maximize the performance of the hundreds of different kinds of graphics processing units (GPUs) used in large-scale volunteer computing systems.
Shang says she attended the boot camp several years in a row. "Listening to the invited speakers each week helped me envision what I wanted in my CAREER, and it sparked ideas that percolated and matured in the final proposal." She will create a computer model to better understand the mechanisms of fluid flow that "drive" the brain's glymphatic waste disposal system.
"Cindy does a phenomenal job of organizing the series and guiding the discussion," Shang says.
Hajim School dean Wendi Heinzelman says prospective faculty members "are thrilled to hear that we offer this."
Heinzelman presented Gary with the school's Edmund A. Hajim Outstanding Staff Award in 2017 for her excellence in encouraging, supporting, and managing grant proposals—whether on behalf of single investigators or large, multi-institutional collaborations.
---
Disclaimer: AAAS and EurekAlert! are not responsible for the accuracy of news releases posted to EurekAlert! by contributing institutions or for the use of any information through the EurekAlert system.