Look into any kitchen in the country and you're likely to find an assortment of utensils, small appliances, and gadgets that don't serve many purposes beyond collecting dust. (Really, you probably don't need those pewter corn cob holders.) But fear of clutter shouldn't dissuade you from picking up a few things that are not only unique but serve a practical and useful function in your home—even if it is incredibly specific. Check out 51 of the best gadgets you'll be proud to show off.
1. INSTANT POT SMART WIFI; $100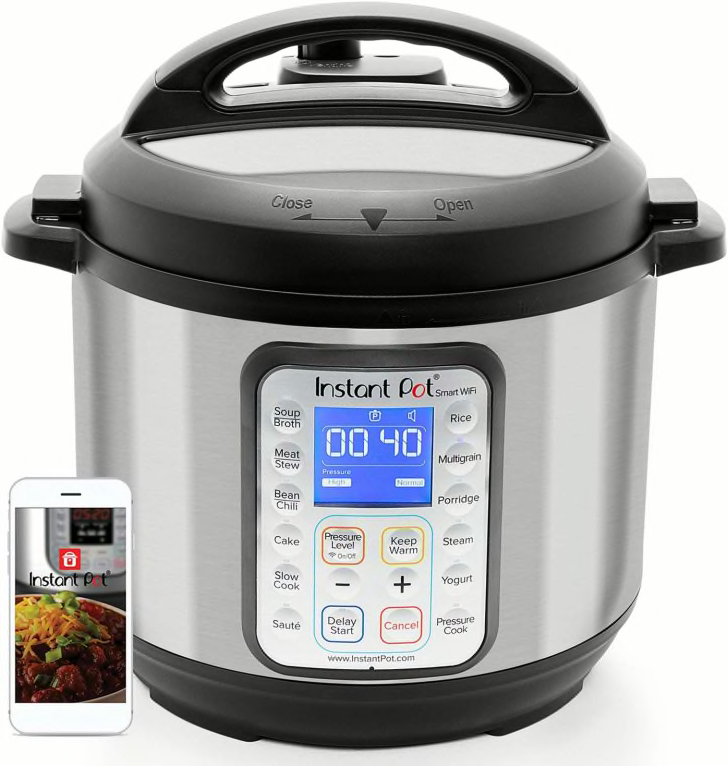 Instant Pots are already a lifesaver—and with Wi-Fi and Alexa power, they'll make any home cook a force to be reckoned with. A pressure cooker, slow cooker, rice cooker, yogurt maker, cake maker, sauté pan, steamer, and warmer all in one, this smart Instant Pot can be controlled directly through an app or by giving your instructions to Alexa. The app has hundreds of recipes to try, and can also track your meal's cooking progress to send you an alert when the food is ready. With a 6-quart capacity perfect for weekly meal prepping or family dinner, and with plenty of accessories, this Pot is the sous chef you never knew you needed until now.
2. CIRCULAR ROLLING KNIFE; $11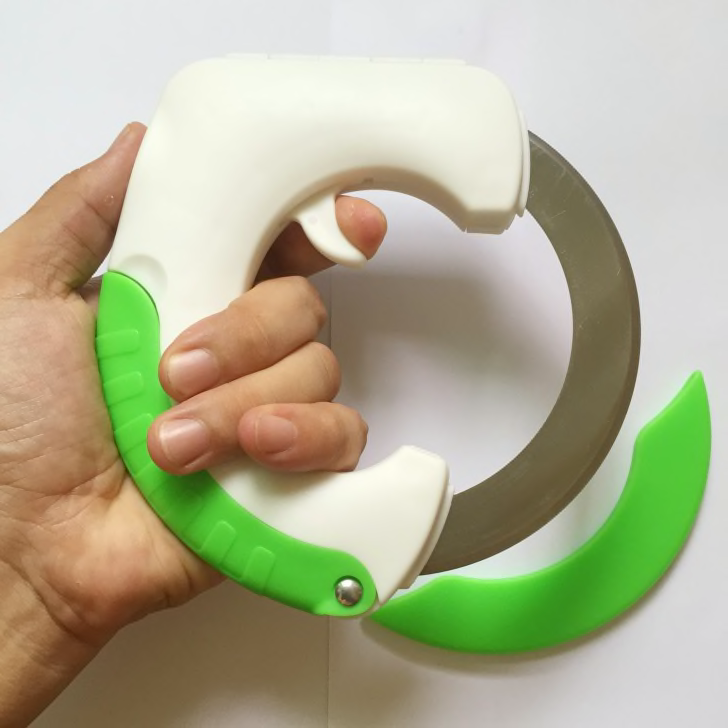 Those Friday night pizza parties just got a very special plus one. This wheel blade doesn't just slice into your favorite pie—it also cuts cakes, veggies, and meats with ease. If you are worried about children or elderly people using this blade and hurting themselves, worry not since there is a white button on the inside grip and on the top that will act as a break before anything happens.
3. SILICONE MAT; $22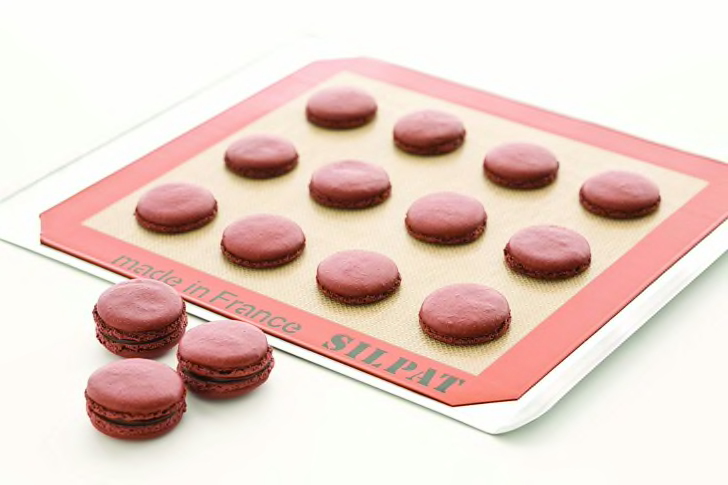 Neater than cooking spray and less wasteful than foil or parchment paper, silicone mats are essential for home cooks and bakers. These reusable mats turn any surface into a nonstick surface. When a baking sheet is lined with a silicone mat, temperamental items like cookies slide off in one piece. The mats are easy to wipe down and can survive thousands of baking sessions. They can also make cleanup easier when roasting savory items like vegetables and chicken wings.
4. EMBER TEMPERATURE CONTROL SMART MUG; $120
There's nothing worse than making that perfect mug of coffee or tea, only for it to start cooling down faster than you can drink it. That's why this smart mug is any chef's perfect accessory. Just charge it using the charging coaster, pour your drink, and keep it hot without ever having to put it in the microwave. The mug lasts for one hour on a single charge, and it can be kept at a consistent temperature between 120 and 145° F (which can be customized using the Ember app). Now you can drink coffee any time of day without ever having to make a fresh pot.
5. KITCHEN GIZMO SNAP 'N STRAIN STRAINER; $17
Straining 
pasta, vegetables, and other dinner fares from boiling water remain to be some of the more unpleasant tasks in the kitchen. Make life easier with the Snap 'N Strain, a silicone strainer that works on any pot or bowl and allows you to drain liquid with one hand. It's small, compact design means it won't take up too much space in your drawers, and the side clips mean you won't waste any more food or worry about it falling out the sides.
6. ERUPTING VOLCANO MICROWAVE CLEANER; $9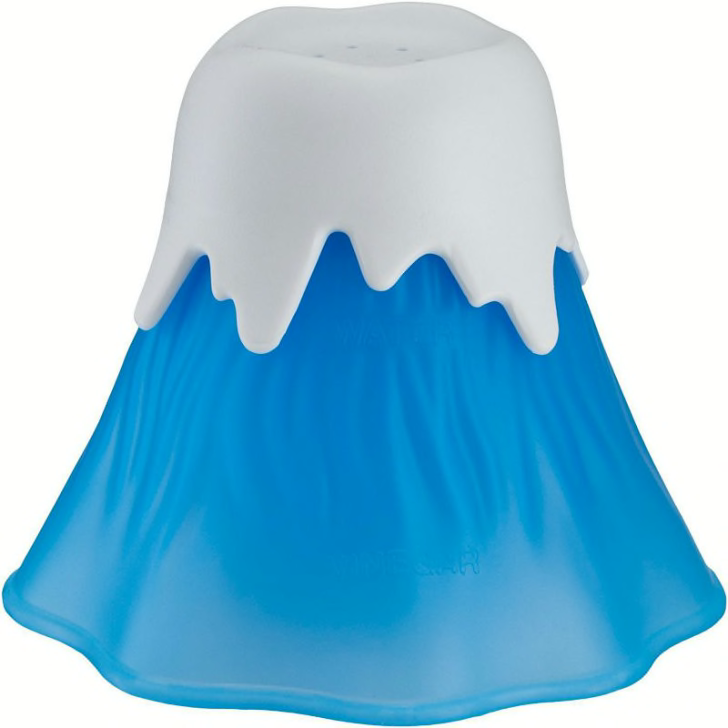 Stop contorting your body trying to get into all the crevices of your microwave. This volcanic assistant uses vinegar and water to steam off particles and odor by "erupting" inside. Set it at high temperature in your microwave for 5 to 8 minutes and then give it a quick wipe-down to finish the job. Your microwave will look and smell brand new and your body won't be aching from the effort.
7. MONKEY PEELER; $18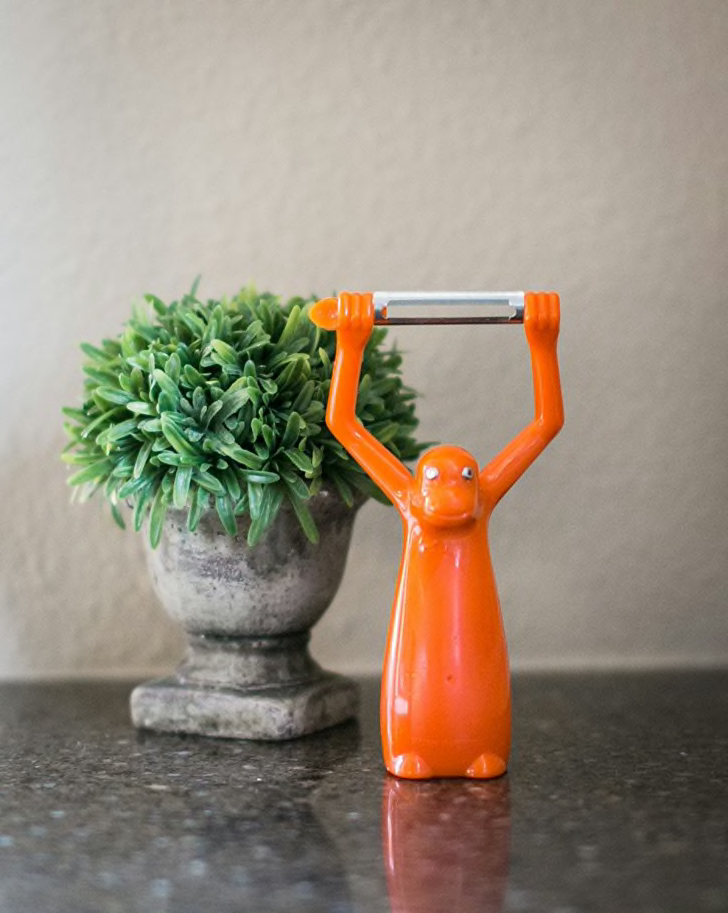 This bright orange peeler is a perfect fit for all the party animals out there. So perfect, in fact, that your little ones will actually want to help with the kitchen prep. The bright orange color will make it an easy tool to spot in your drawers and exciting for everyone to try out on anything from potatoes to carrots to apples.
8. ELECTRIC FOAM MAKER; $14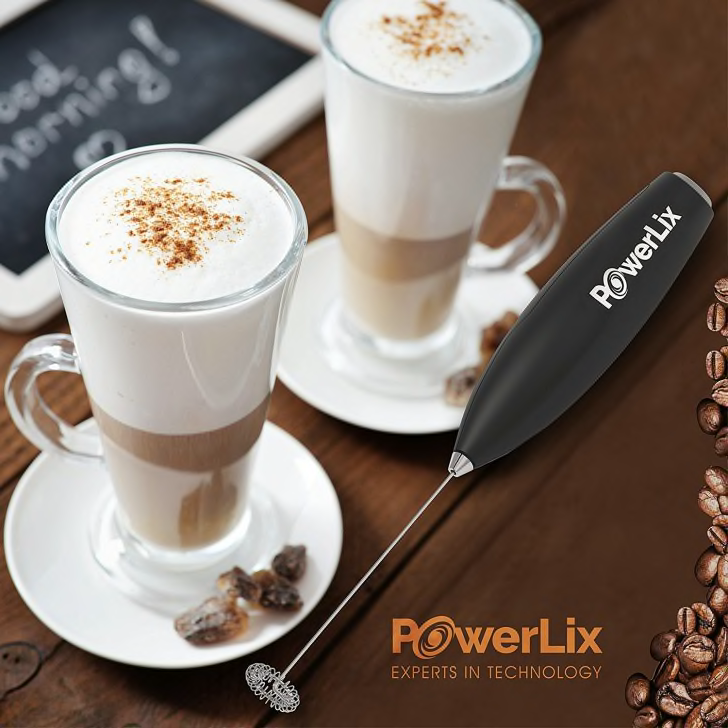 For less than the price of two venti dirty chai lattes, you can make your own froth at home with the help of this handheld electronic device. The whisk is battery powered so you won't have to worry about cords getting in the way. Simply heat up your favorite milk, take out the whisk, submerge it in the liquid, and power the machine until the optimal amount of bubble starts to emerge. Pour the milk and newly homemade froth into your coffee and sip.
9. DIGITAL SCALE; $20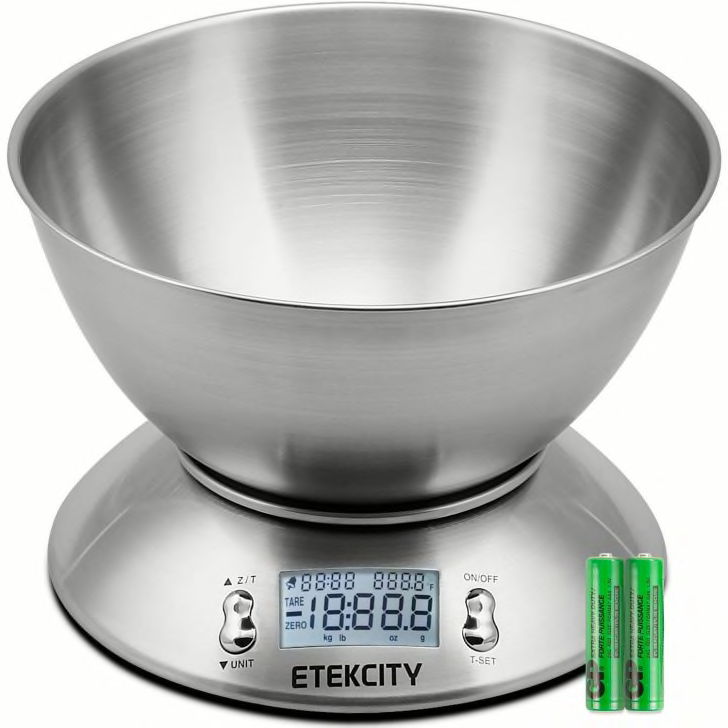 If you're serious about baking, invest in a kitchen scale. Baking is all about precision, and it's hard to be precise when working with measuring cups and spoons. A digital scale, however, can measure your flour and sugar down to a fraction of an ounce. It's also great for making recipes written in metric units. (Say, if you're cooking from Great British Bake Off recipes.)
10. BOX GRATER; $14
Think of a box grater as more than a basic cheese grater. Each of the four sides serves a special purpose, from slicing to zesting. You can use it to shred potatoes for latkes, grate nutmeg for desserts, or slice zucchini for ratatouille. Of course, the cheese-grating capabilities alone are worth it if you like to make mac and cheese at home.
11. HAMILTON BEACH SMART COFFEE MAKER; $90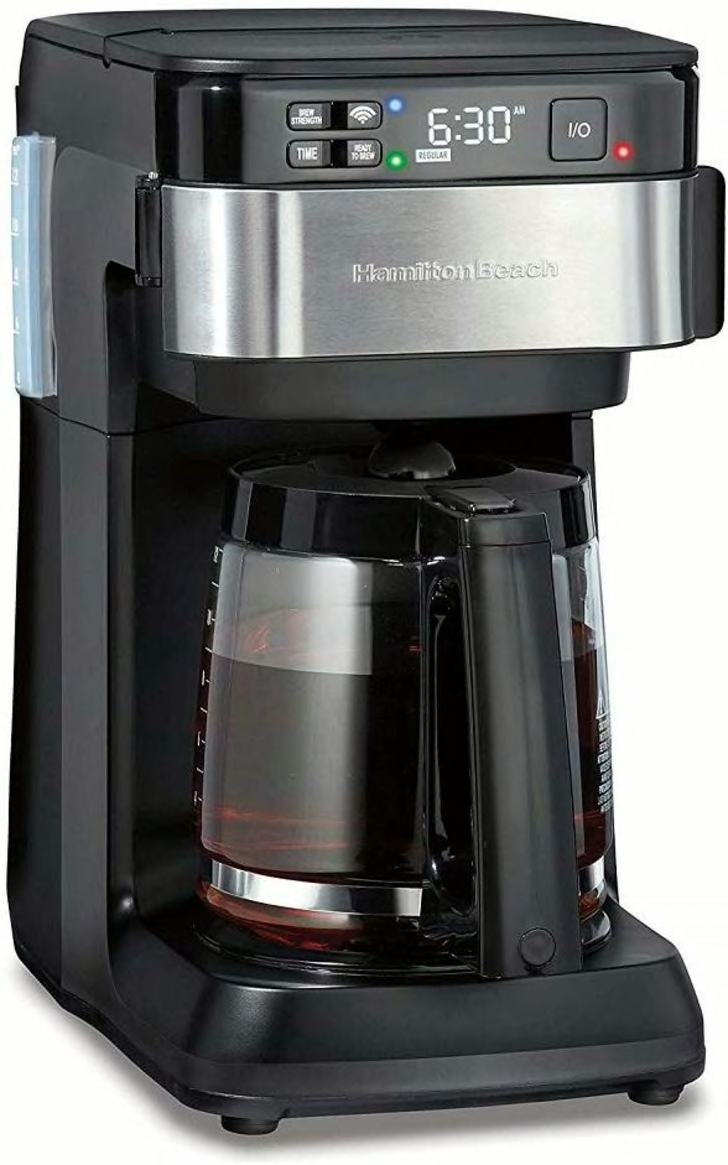 Never make your own coffee again with this 12-cup smart coffee maker from Hamilton Beach. For your part, you'll just need to schedule a brewing time, set your brew strength, and turn your coffeepot on and off with Alexa, or with the Alexa app. This coffee maker can be filled with water from the front, so there's no need to pull it out from under any cabinets, and its heating plate automatically turns off after two hours as a safety precaution. After coffee itself, there's no smarter way to wake up in the morning.
12. PREPWORKS PROGRESSIVE ONION CHOPPER; $20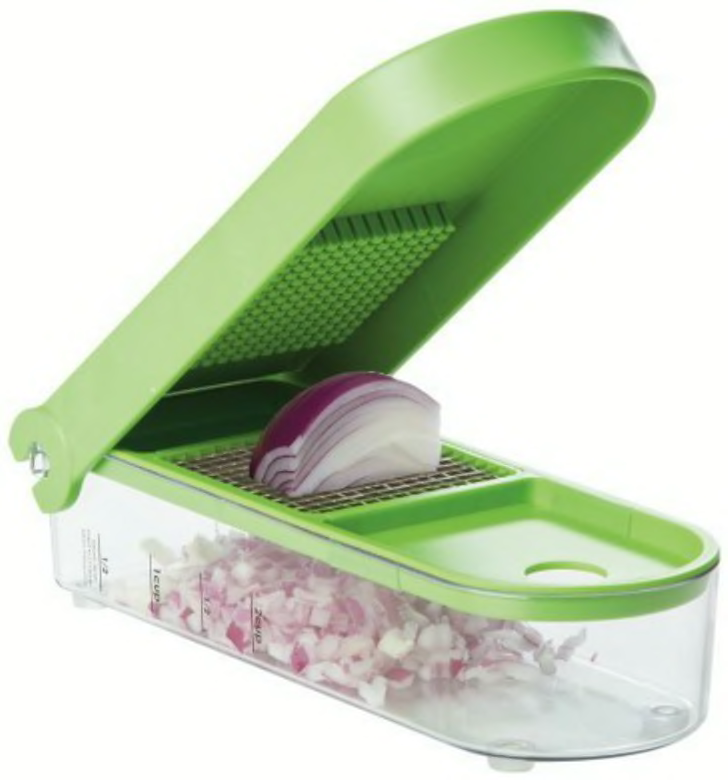 Take the emotion out of preparing onions with this dicing assistant. Just place an onion section in the tray and close the lid. The portions fall into a 2-cup measuring container, without all the tears involved. It can be used to dice anything from tomatoes to peppers to carrots. This kitchen gadget will not only save you time while cooking but also when cleaning up since it comes apart easily and is dishwasher safe.
13. HIDE & DRINK CAST IRON HANDLE GUARDS; $32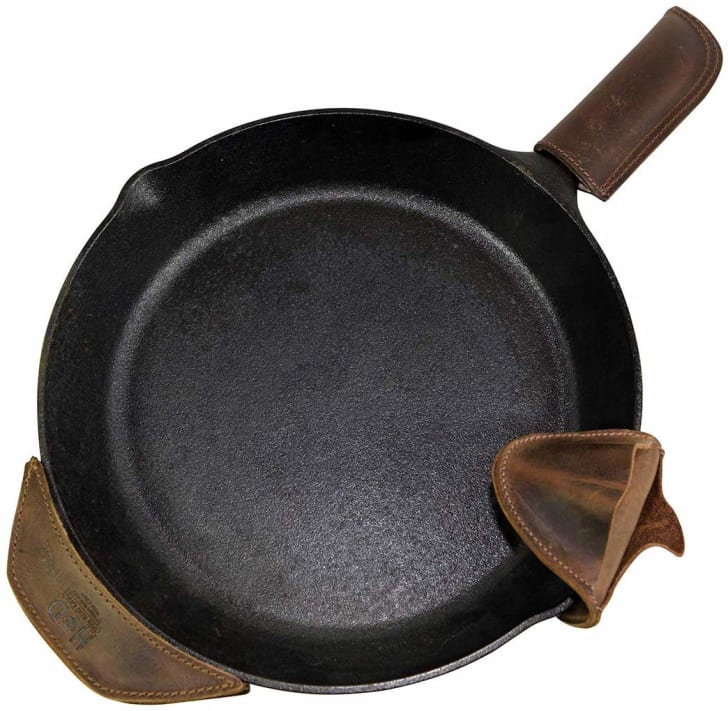 Cast-iron pans are a kitchen must, but their searing-hot handles and corners aren't always a pleasure to grab. Keep your hands from sizzling with these classy leather guards. These double stitched, double-layered leather pot holders can withstand any heat from any pot r pan and won't damage the quality of the leather holder.
14. SPIRALIZER; $21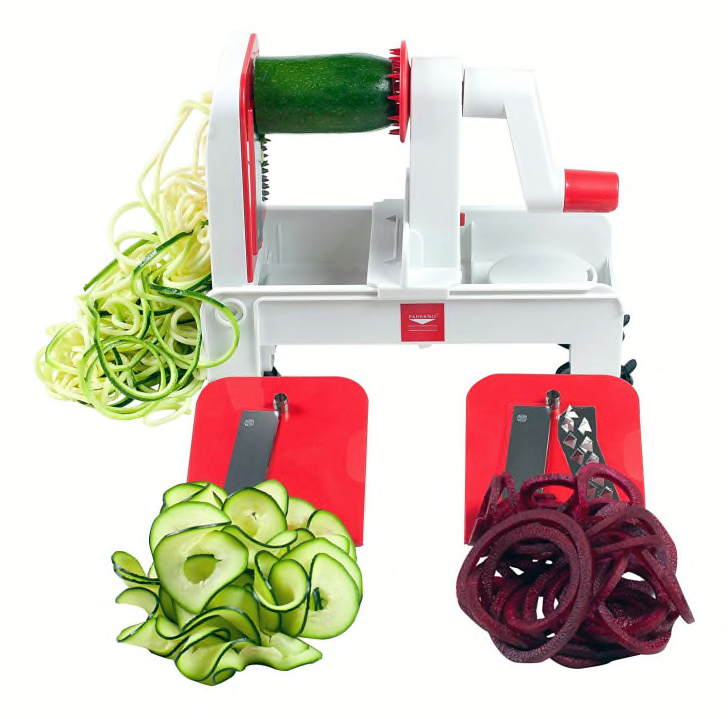 Quitting pasta cold turkey is a tough feat for most, but making your zoodles doesn't have to be. This spiralizer has three blades to slice your fruits and veggies thin enough to trick yourself. Anything can become a noodle, garnish, or ribbon with a spiralizer. The cooking possibilities are endless once you change the form of your favorite vegetables.
15. ETEKCITY DIGITAL KITCHEN SCALE; $30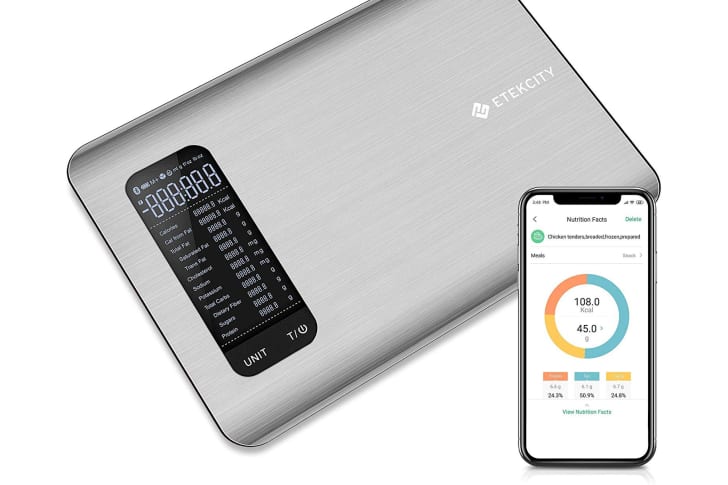 Even with an arsenal of kitchen gadgets in your corner, you may not always be prepared to make healthy choices. That's where the Etekcity Digital Scale comes in. The scale syncs with the Etekcity app to track not just the calories of your food, but their nutrition content too. Just put the food on the scale, plug the name of the item into the app, and voilà! You'll know everything from the calories to carbs to protein and more. The app is preloaded with 27,000 different items via a USDA database, so knowing the nutritional value of everything you're eating is near-guaranteed. Whatever your health goals are, you'll not only cook smart with this device: you'll eat smart, too.
16. TURBO POT RAPID BOIL POT; $59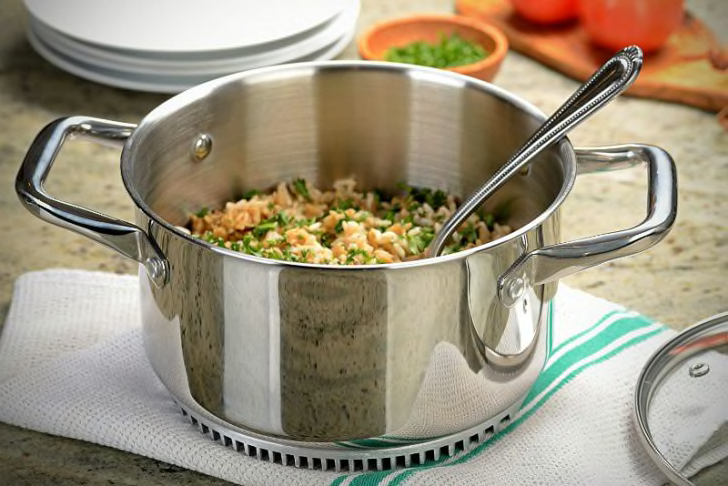 Worse than watching paint dry? Waiting for water to slowly come to a boil. Speed up this glacial kitchen task with the 3.5-quart rapid-boil Turbo Pot, which uses aluminum fins at the base to rapidly conduct heat and bring water to a boil over a gas stove or open flame 30 to 50 percent quicker. (No electric stoves, sorry.)
17. PASTA MACHINE; $105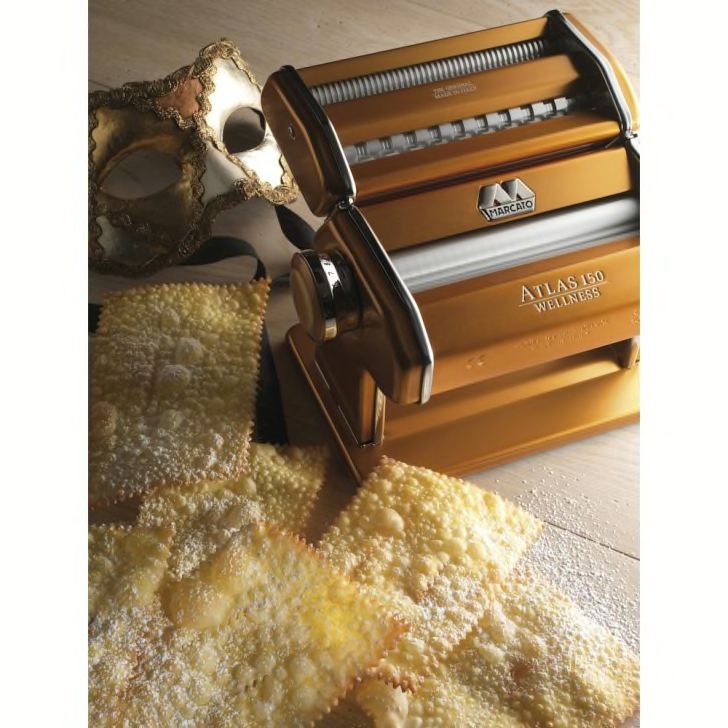 Everyone needs a cheat day (or two). Create your own spaghetti, rigatoni, and lasagna noodles at home—and transport yourself to the Old Country without leaving your kitchen. This pasta machine will help you roll out your pasta dough to the perfect thinness so you can have the most delicious dinner.
18. CITRUS JUICER; $12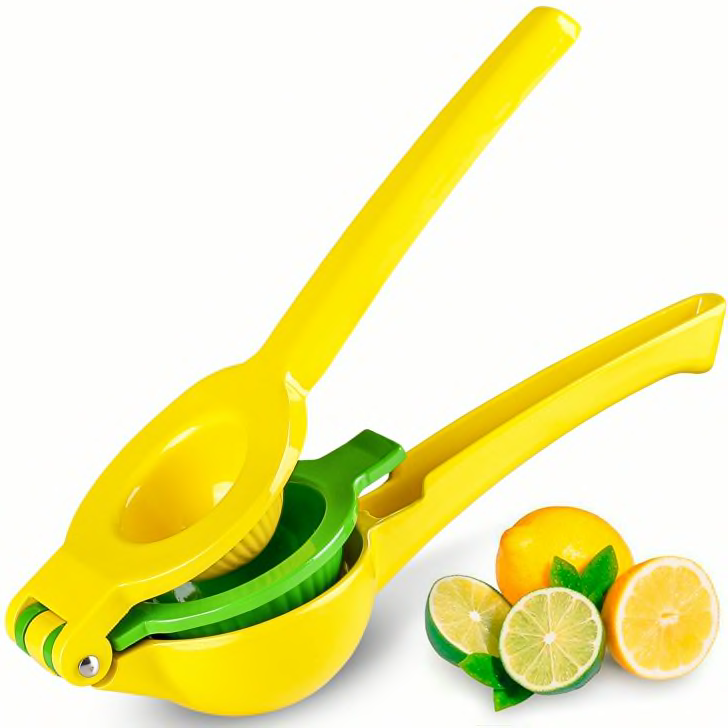 Fresh citrus juice is superior to the packaged stuff, but squeezing halved fruits by hand can get messy. With a manual press juicer, you can add bright, acidic notes of lemon and lime to your meals without stinging your fingers. This tool also catches the seeds for you, making squeezing citrus juice over your food almost as easy as squeezing it from a bottle. Even if you don't use it often while cooking, it's an essential component of any good bar cart.
19. BAMBOO CUTTING BOARD; $19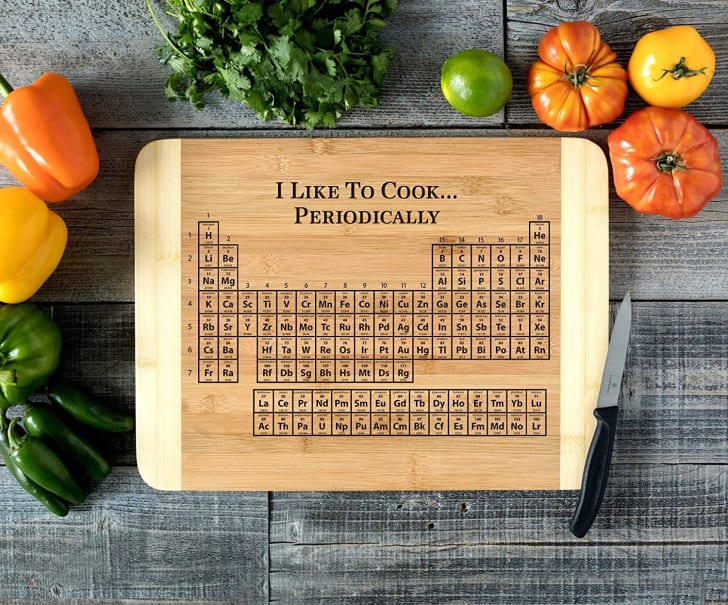 You'll geek out over this periodic table cutting board, which fuses the elements and your ingredients. It can also double as a serving board for game nights or dinner parties. Even with its functional highlights such as it being made of eco-friendly wood and is hand-sanded to avoid splinters the fun of personalizing your cutting board is the real stand out feature.
20. BURGER PRESS; $26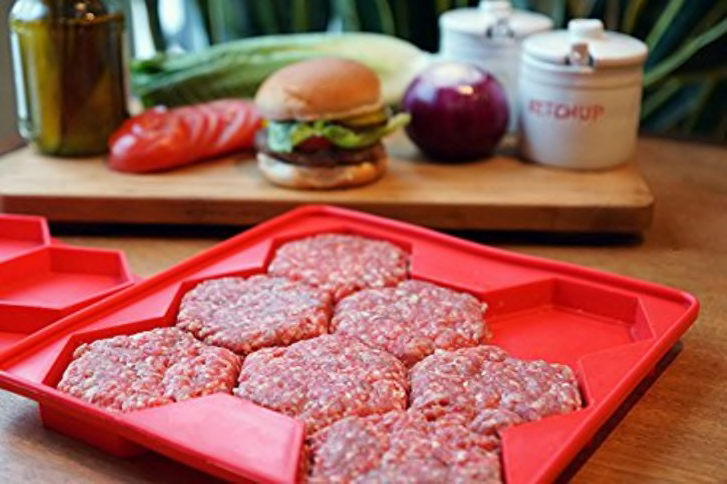 Prepare for your friends to rave about all the homemade dinners you'll get out of this burger press. It doesn't just shape burgers into perfect quarter pound sizes—you can also use it for pasta, rice, and other side dishes as well. You can also store this in the freezer if you want to meal prep for the week, a party, or any old day you want a burger. 
21. IDEVICES KITCHEN THERMOMETER; $100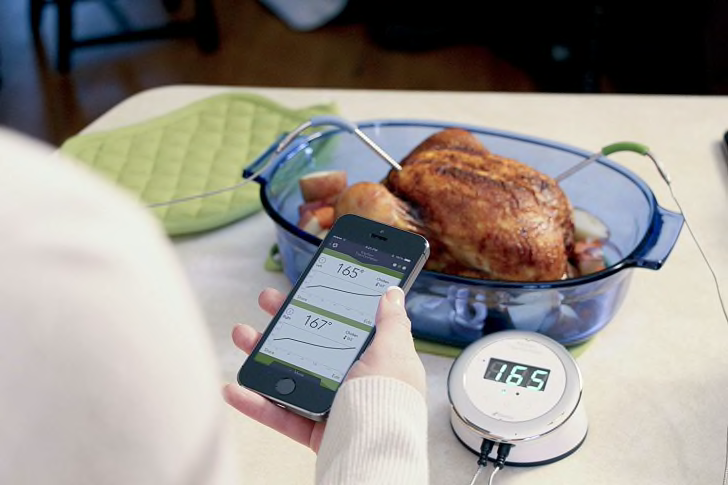 Just like a watched pot never boils, a piece of meat that you have to monitor never cooks (or so it seems). But the iDevices Kitchen Thermometer takes all the anxiety out of the equation. Just stick one of the dual probes in your food (or both, for larger items) and connect to the Kitchen Thermometer app to set the temperature your food needs to reach. From there, the app takes over, monitoring your food's temperature and alerting you when it's time to take it out of the oven. There's no need to keep checking on it, so you can spend your time doing things other than opening and closing your oven door every 15 minutes.
22. BREAKFAST SANDWICH MAKER; $43
Go ahead and empty your Uber Eats cart. With one machine, you can warm your bread, prepare a sunny-side-up egg, and heat the breakfast meat of your choice for a sandwich that'd make Ronald McDonald green with envy. This Hamilton Beach breakfast sandwich maker can help you get from hungry to fed in just 5 minutes.
23. ANOVA CULINARY SOUS VIDE PRECISION COOKER NANO; $129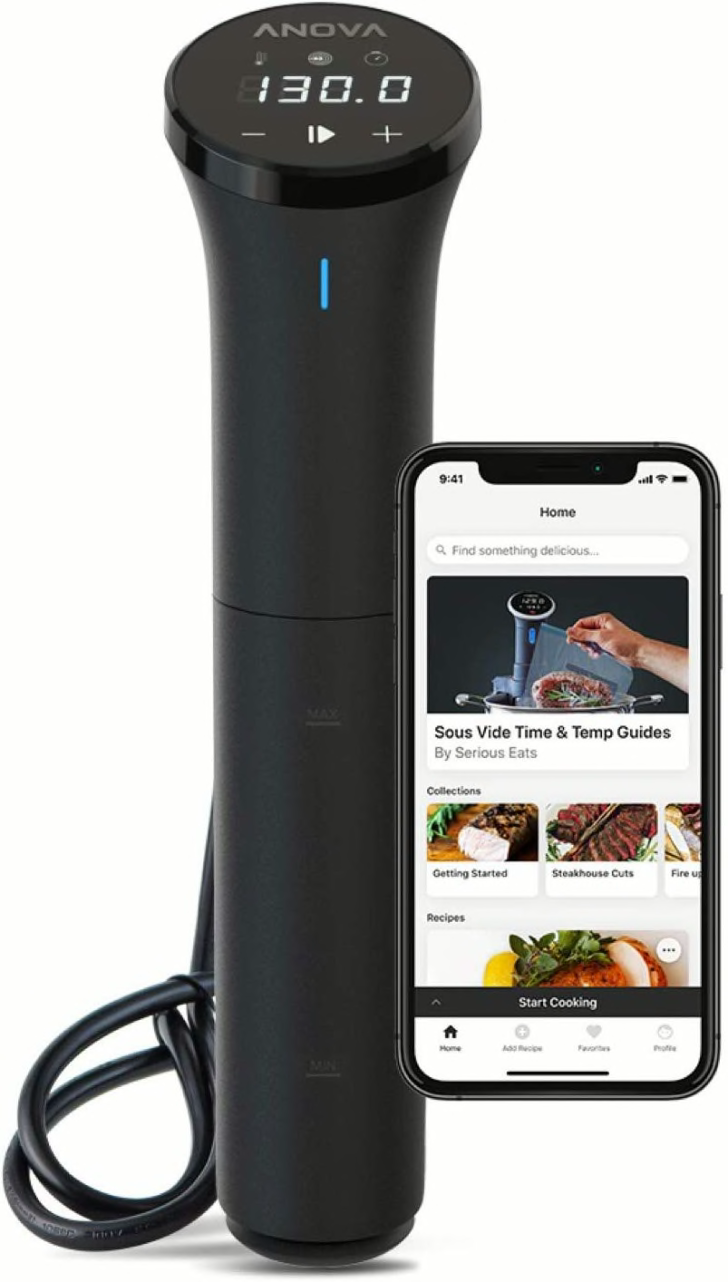 The sous vide method of cooking can sometimes be intimidating—but this smart tool makes it completely approachable. All you have to do is attach the cooker to a pot or container, fill it with water, add your food in a sealed bag, and start the Precision Cooker. This powerful device will circulate the water at the exact temperature your food needs to cook, and its small size makes it portable and easy to store. Although you can use the manual controls, you can also monitor and control the device from your phone using the Anova app. Sous vide has never been easier.
24. CAST-IRON SKILLET; $15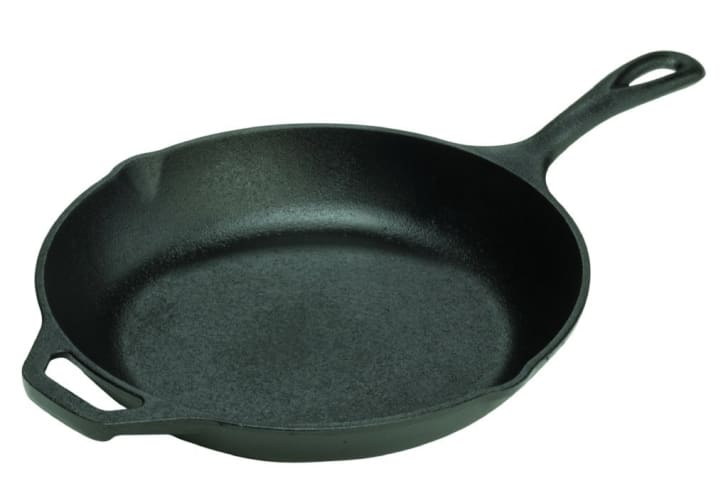 Cast iron skillets seem like they should be expensive. They're heavy, long-lasting, and they make food taste amazing. Steaks, potatoes, and hamburgers all benefit from the material's unique heat-conducting properties. But you don't need to blow your paycheck to own this impressive chef's tool. Some of the best cast irons available cost less than $25. As long as you care for it properly, buying a cast iron skillet is one of the cheapest ways to improve your cooking.
25. PERFECT DRINK PRO; $100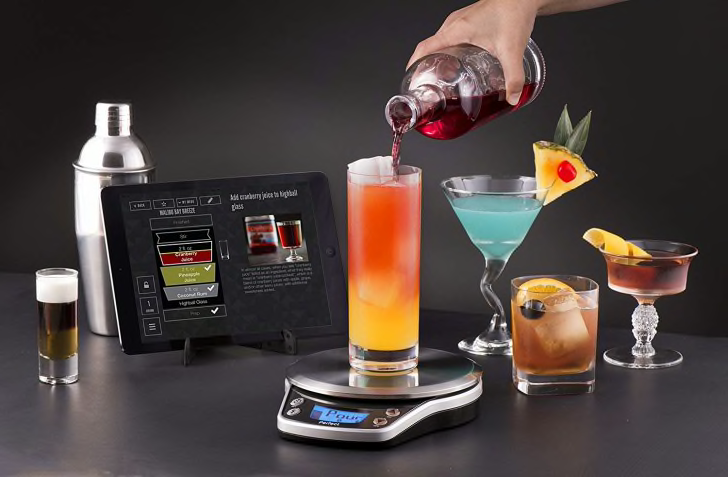 What's dinner without drinks? Try out the Perfect Drink PRO, which is great for novice mixologists and clueless cocktail makers alike. Simply choose one of the drinks on the app, put your glass or shaker on the scale, and start pouring. The app will guide you through the cocktail recipe, dinging when it's time to stop pouring and move onto the next step. Everything is measured via the scale weight, so there's no need to use a shot glass or measuring cup ever again. And, with the ability to self-adjust a recipe if you over pour, the PRO guarantees that your drink will always taste like it was made by your favorite bartender.
Where To Buy
1. INSTANT POT SMART WIFI; $100 – BUY IT: AMAZON
2. CIRCULAR ROLLING KNIFE; $11 – BUY IT: AMAZON
3. SILICONE MAT; $22 – BUY IT: AMAZON
4. EMBER TEMPERATURE CONTROL SMART MUG; $120 – BUY IT: AMAZON
5. KITCHEN GIZMO SNAP 'N STRAIN STRAINER; $17 – BUY IT: AMAZON
6. ERUPTING VOLCANO MICROWAVE CLEANER; $9 – BUY IT: AMAZON
7. MONKEY PEELER; $18 – BUY IT: AMAZON
8. ELECTRIC FOAM MAKER; $14 – BUY IT: AMAZON
9. DIGITAL SCALE; $20 – BUY IT: AMAZON
10. BOX GRATER; $14 – BUY IT: AMAZON
11. HAMILTON BEACH SMART COFFEE MAKER; $90 – BUY IT: AMAZON
12. PREPWORKS PROGRESSIVE ONION CHOPPER; $20 – BUY IT: AMAZON
13. HIDE & DRINK CAST IRON HANDLE GUARDS; $32 – BUY IT: AMAZON
14. SPIRALIZER; $21 – BUY IT: AMAZON
15. ETEKCITY DIGITAL KITCHEN SCALE; $30 – BUY IT: AMAZON
16. TURBO POT RAPID BOIL POT; $59 – BUY IT: AMAZON
17. PASTA MACHINE; $105 – BUY IT: AMAZON
18. CITRUS JUICER; $12 – BUY IT: AMAZON
19. BAMBOO CUTTING BOARD; $19 – BUY IT: AMAZON
20. BURGER PRESS; $26 – BUY IT: AMAZON
21. IDEVICES KITCHEN THERMOMETER; $100 – BUY IT: AMAZON
22. BREAKFAST SANDWICH MAKER; $43 – BUY IT: AMAZON
23. ANOVA CULINARY SOUS VIDE PRECISION COOKER NANO; $129 – BUY IT: AMAZON
24. CAST-IRON SKILLET; $15 – BUY IT: AMAZON
25. PERFECT DRINK PRO; $100 – BUY IT: AMAZON
26. MORTAR AND PESTLE; $21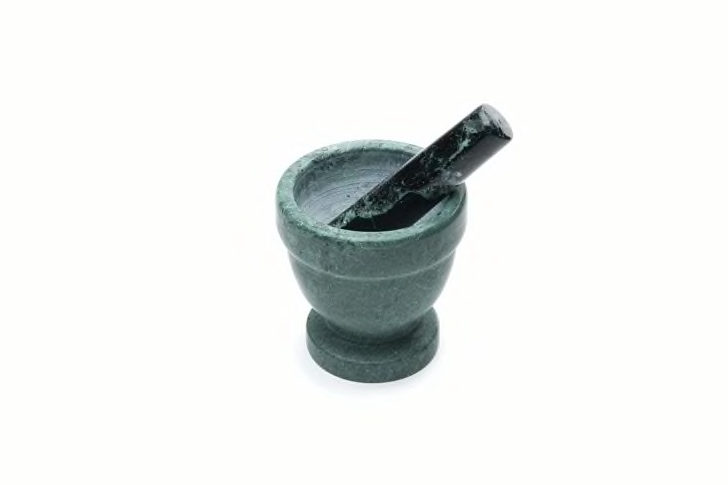 A bulky mortar and pestle may seem antiquated in today's modern kitchen, but it's necessary if you want to take your cooking to the next level. Some spices—like fennel seeds, cardamom, and peppercorns—taste much better freshly ground than they do out of the jar. Using a mortar and pestle is the key to making professional-tasting sauces and condiments, such as aioli, pesto, curry paste, hummus, and guacamole.
Buy it: Amazon
27. OXO GOOD GRIPS 3-IN-1 AVOCADO SLICER; $10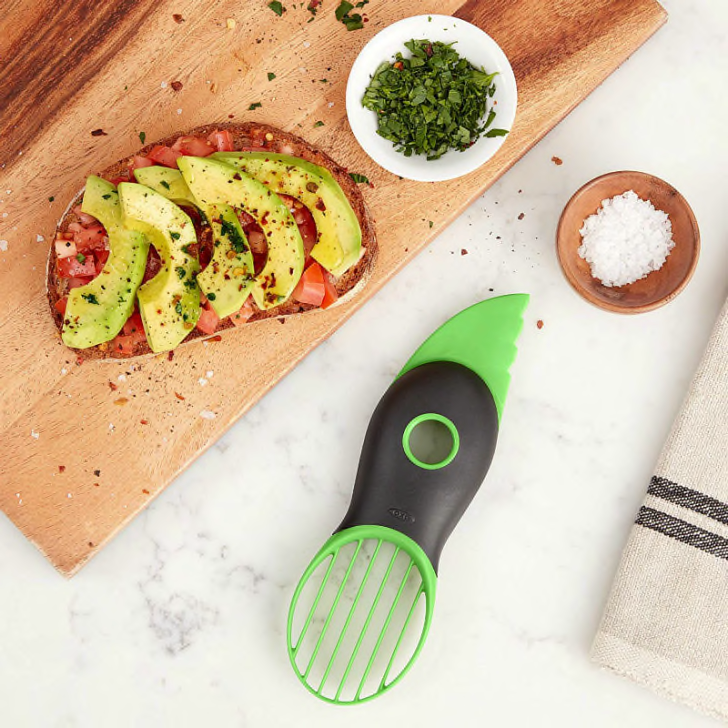 Trying to pierce the tough exterior of an avocado can sometimes require medical attention, with botched attempts connected with serious nerve and tendon injuries. To avoid gouged palms, try this safety utensil that uses a serrated edge to easily puncture the avocado. You can also pit and use the fan blade to slice your newly-cracked superfood into seven serving slices.
Buy it: Amazon
28. COSORI SMART WIFI AIR FRYER; $120
Air fryers are the best: they add crunch and crispiness to everything from chicken to eggplant, and best of all, they make frying healthy, too! Step up your air fryer game with this Smart WiFi Air Fryer from COSORI. It's Alexa- and Wi-Fi-enabled, making your frying hands-free, and can also be controlled by your phone. With the ability to schedule a cook time up to four hours in advance, and set with pre-programmed recipes, this fryer will be your new secret weapon for parties or a quick weeknight meal.
Buy it: Amazon
29. CUISINART FROZEN YOGURT AND ICE CREAM MAKER; $80
If you're craving frozen yogurt, ice cream, or sorbet, you no longer need to even leave the house to get your fix. Simply add your ingredients to the mixing bowl, turn the Cuisinart on, wait 20 minutes, and then enjoy a bowl of cold goodness. You can even make ice cream for the whole party since it can make up to 1.5 quarts of the delicious treat.
Buy it: Amazon
30. MANDOLINE SLICER; $17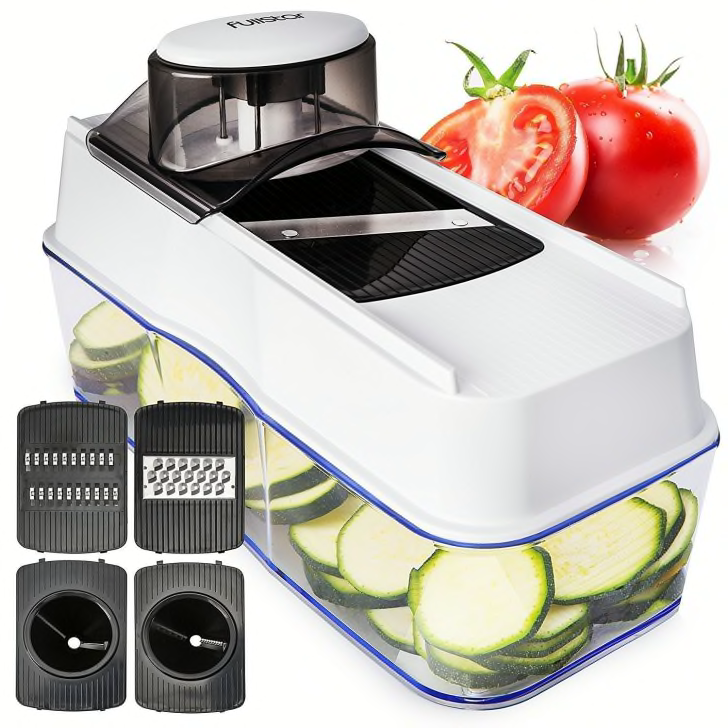 One appliance, endless possibilities: This slicer chops cucumbers, grates cheese, spiralizes veggies and dices ingredients. You can leave your knives out of the cooking equation now with this mandoline slicer. With 6 interchangeable blades, you can make anything your heart desires now. The quart-sized tray that catches all the contents means you can meal-prep like crazy if you want. It is even dishwasher safe so you don't have to hand wash everything after slicing all your favorite ingredients.
Buy It: Amazon
31. SCI CUISINE INTERNATIONAL SQUARE EGG PRESS; $7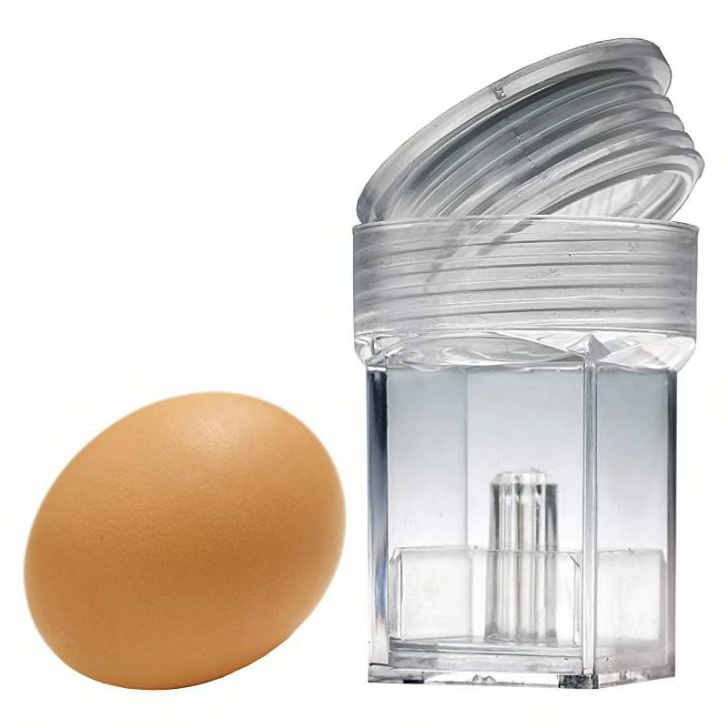 Make your snack a conversation starter with this unique food modifier. If you are taking your food to work, a picnic, or the beach, this gadget can help you save space. Place a hot hard-boiled egg into the chamber and twist. As the egg cools, it will conform to the shape of the container and emerge as a square. Make packing a lunch easier on yourself with a square egg instead of a round one.
Buy it: Amazon
32. HESTAN CUE SMART PAN FRYER; $400
This isn't your mom's hot plate. Consisting of a set of a portable induction burner and a temperature-sensing stainless steel pan, this Hestan Cue Smart Cooking system comes with an app that has over 500 different recipes for all levels of cooking. It will take you step-by-step through each meal, and will self-adjust cooking time and temperature so you don't have to worry about watching the pan as you prep, chop, and scroll through the recipe. Best of all? The pan is dishwasher safe, making cleanup just as easy as the meal.
Buy it: Amazon
33. TORTILLA PRESS; $20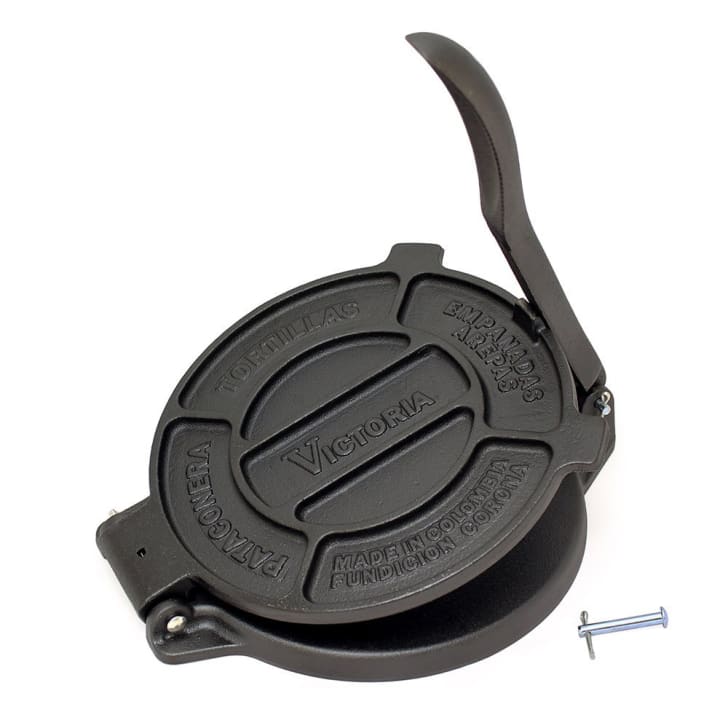 Taco Tuesdays will never be the same. Instead of going out, why not whip up your own tortillas, arepas, or empanadas at home? After making your masa, simply press down a dollop of it between the paddles to create your own tortillas and taco shell rounds—as well as roti, dumplings, and even plantains.
Buy It: Amazon
34. SALAD DRESSING MIXER; $17
Prepackaged dressing too boring (or too unhealthy)? The OXO salad dressing mixer makes it easier for you to control what goes into your salads. Simply add your ingredients to the jar, twist the dial on the lid to mix everything, and enjoy a salad topped with your own homemade dressing.
Buy it: Amazon
35. GRATE PLATE CERAMIC GRATING PLATE; $30
Why grate over a plate when you can grate on a plate? This stubbed ceramic dish grates and collects your garlic, hard cheeses, ginger, and other goods. Available in 13 different colors, you're guaranteed to have a conversation starter about this unique gadget and impress all your dinner guests with your skills. 
Buy it: Amazon
36. WHISK WIPER; $16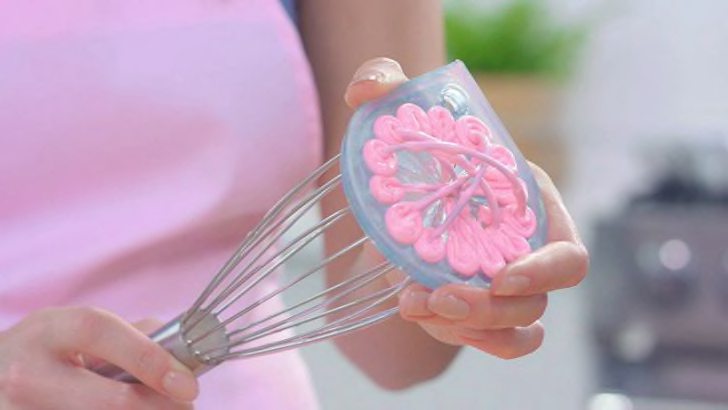 One of the minor inconveniences of using a whisk is how difficult it is to clean afterward. The chore typically involves trying to isolate each individual loop with a sponge, usually with less-than-perfect results. The Whisk Wiper is a whisk that comes with a pre-fit wiper designed to nudge that last bit of batter off the utensil, preserving both your baking mix and your sanity.
Buy it: Amazon
37. FOOD PROCESSOR; $35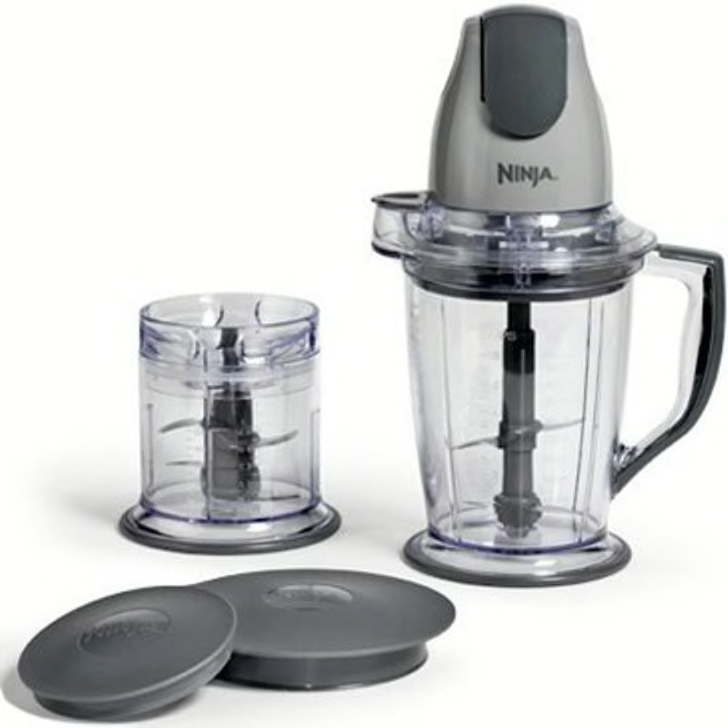 Let's not mince words: Any chef (professional or not) needs a food processor in their kitchen. From chopping fresh fruits and veggies to blending smoothies, this Ninja top seller saves you half of the effort with full results. With 400 watt power and a 48-ounce pitcher, you'll be able to blend up margaritas, soups, and dips in no time.
Buy It: Amazon
38. 
Aluminum 4-Cup Egg Frying Pan

; $20
If you find yourself struggling to keep your poached or fried eggs separate, consider this partitioned pan from Flamekiss as the answer to your problems. The surface keeps your eggs divided into three perfectly round serving sizes so you don't have to watch them like a hawk and keep separating them.
Buy it: Amazon
39. ECHO SHOW; $105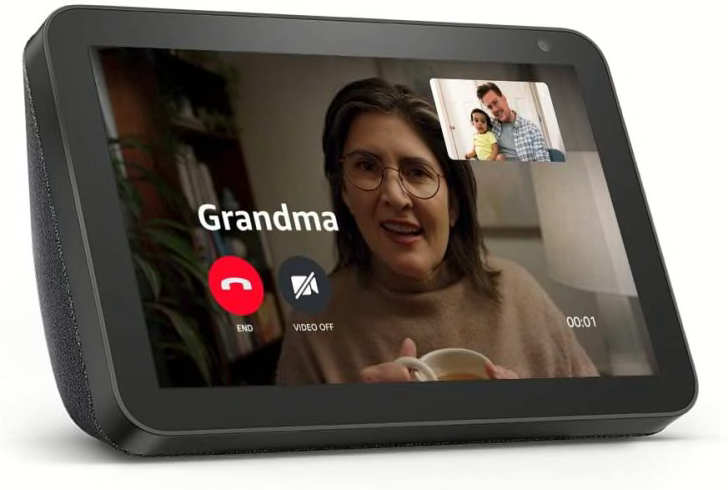 Buyer's remorse, begone. Aside from making hands-free calls and blasting your favorite tunes, Echo (which is the visual component of Alexa, with a video screen) helps you see your shopping lists and watch as the pros show you how to make new recipes come to life in your own kitchen. The 8-inch HD screen means you can have precision visual for looking at photos, the weather, or watching videos.
Buy It: Amazon
40. INDOOR GRILL; $59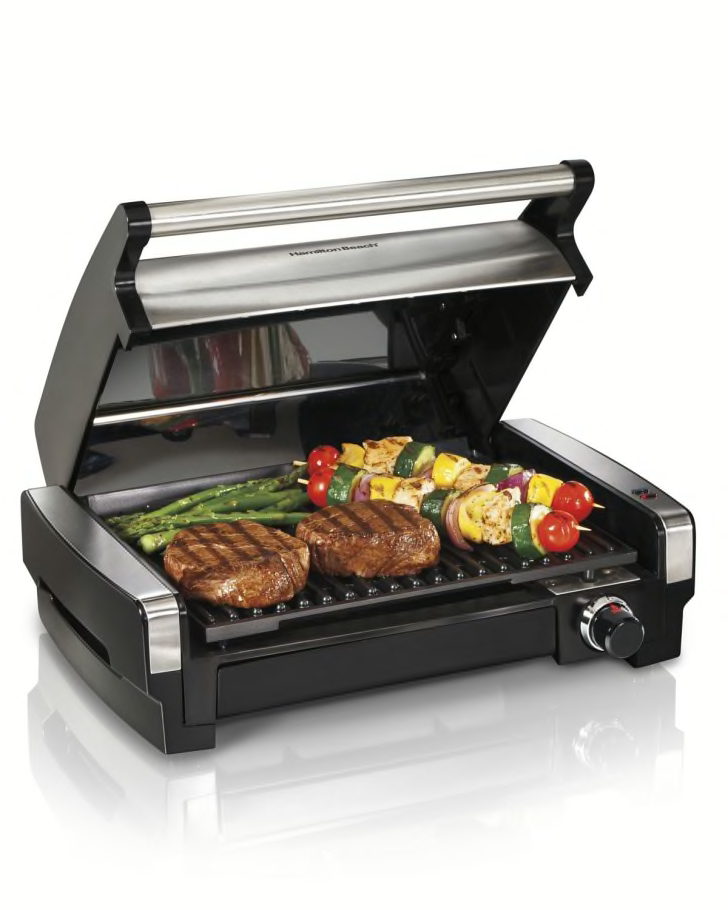 Even though it's freezing in most parts of the country, that doesn't mean that you should sacrifice your cookouts. Bring the barbecue inside with an electric grill that delivers A+ sear marks—no charcoal required. The extra-large drip tray helps catch all the juices so clean up is easier than using your outside grill.
Buy It: Amazon
41. LOCKING TONGS; $13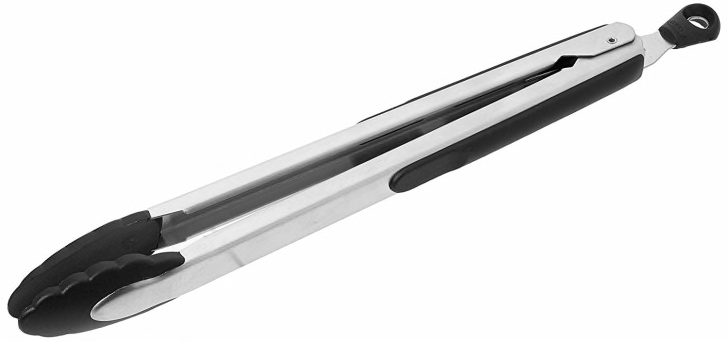 Bare hands are underrated tools in the kitchen, but some jobs just can't be done without tongs. If you're flipping hot meat on the grill, tossing wings in buffalo sauce, or serving pasta, you'll need a decent pair of locking tongs to keep your hands clean and unburnt. Fortunately, durable, stainless steel tongs with smooth, pinch-free locks are easy to find for less than $15.
Buy it: Amazon
42. PRE-SEASONED SKILLET; $15
Spend less time scraping your dinner out of the pan and more time tasting your actual meal with this pre-seasoned pan. Vegetable oil is actually baked into this pan, ensuring that all of your recipes slide right on out. Not only will your spatulas thank you, but so will your hungry dinner guests.
Buy It: Amazon
43. KITCHEN SHEARS; $17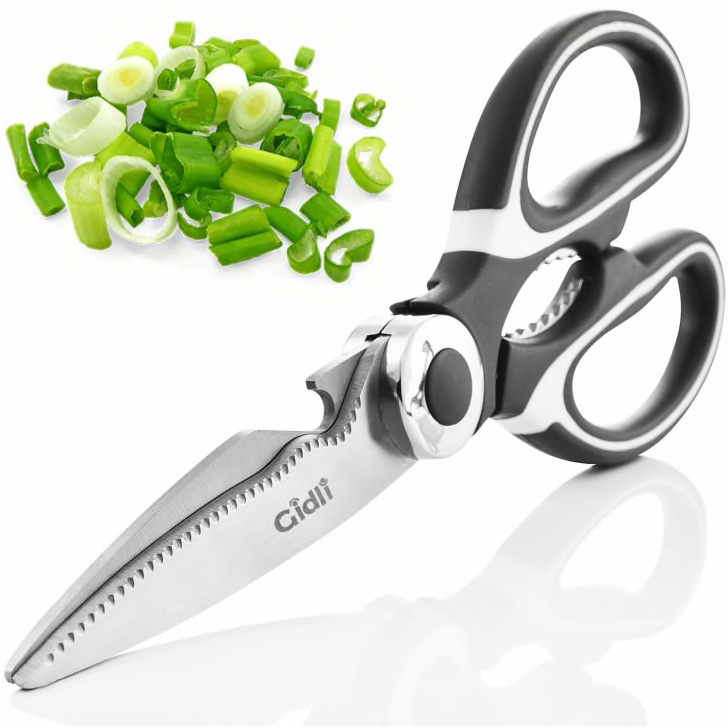 Quality knives are vital in the kitchen, but no collection of cutting tools is complete without a good pair of scissors. A home cook needs kitchen shears for butchering jobs, like spatchcocking a chicken. Kitchen shears are also useful for trimming pie crusts, snipping herbs, and even cracking open lobster claws. And unlike decent chef's knives, a great pair of shears can cost as little as $20.
Buy it: Amazon
44. EGG COOKER; $20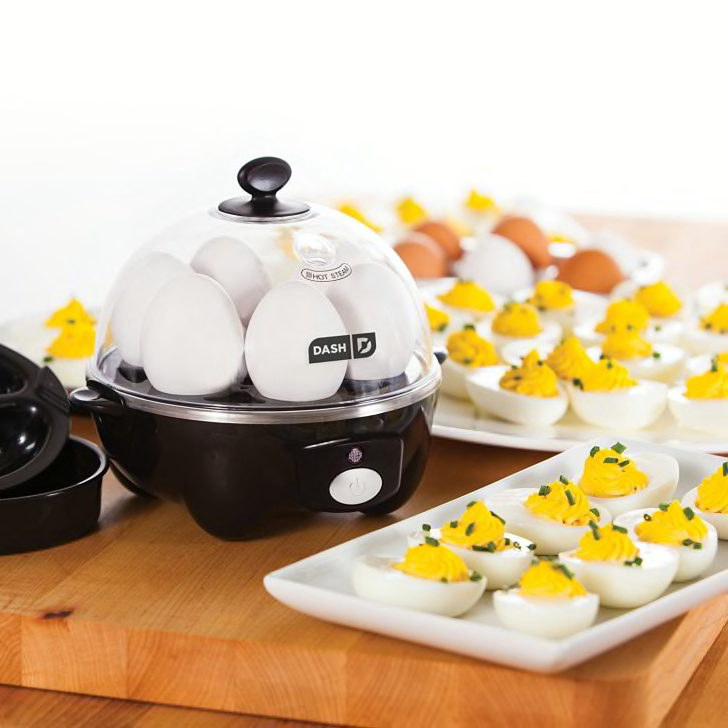 It doesn't matter if you like your eggs hard-boiled, soft-boiled, poached, scrambled, or in omelette form, the Dash Rapid Egg Cooker has you covered. This machine lets you boil 6 eggs at a time and sets a timer and it will do all the work for you and automatically turn off so you don't have to worry about overcooking.
Buy It: Amazon
45. WOODEN SPOON; $15 FOR THREE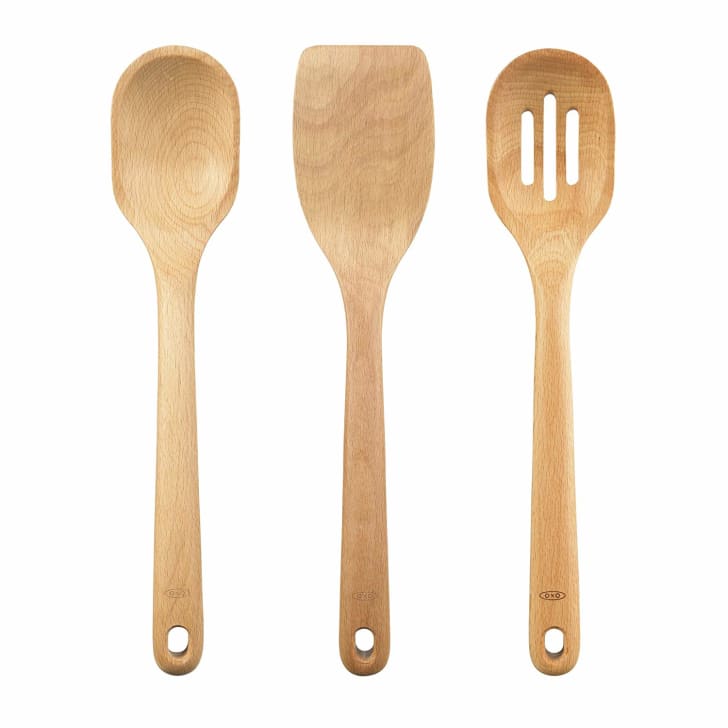 There are many fancy kitchen utensils available to home cooks today, but the best type of spoon for cooking is one that's been around for centuries. Wooden spoons have several advantages over spoons made from metal or plastic: They don't conduct heat well, they won't scratch the bottom of your expensive pan, and they won't leach chemicals into your food. They're also just as durable as they are versatile. Wood is naturally antibacterial, and if you care for your spoon properly, it will last you through countless meals. OXO sells a set of three different wooden spoons for under $15.
Buy it: Amazon
46. FRITTATA AND OMELETTE PAN; $44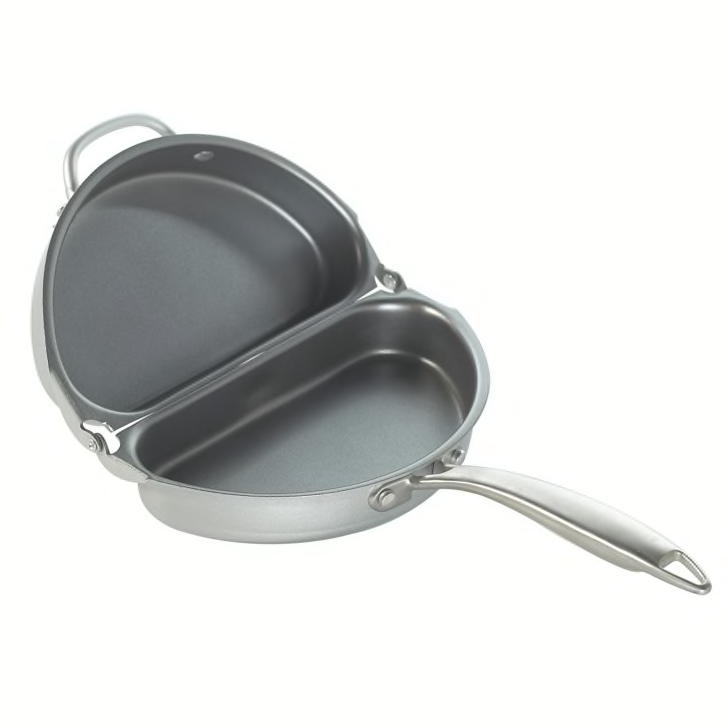 Have a hunch for brunch? Try preparing your eggs in Nordic Ware's pan, built with a hinge that makes your breakfast dishes easier to flip that way you get an even layer of cooked eggs ready to go. The nonstick surface makes cleaning and getting your food onto your plate a breeze. 
Buy It: Amazon
47. RAVIOLI MAKER; $20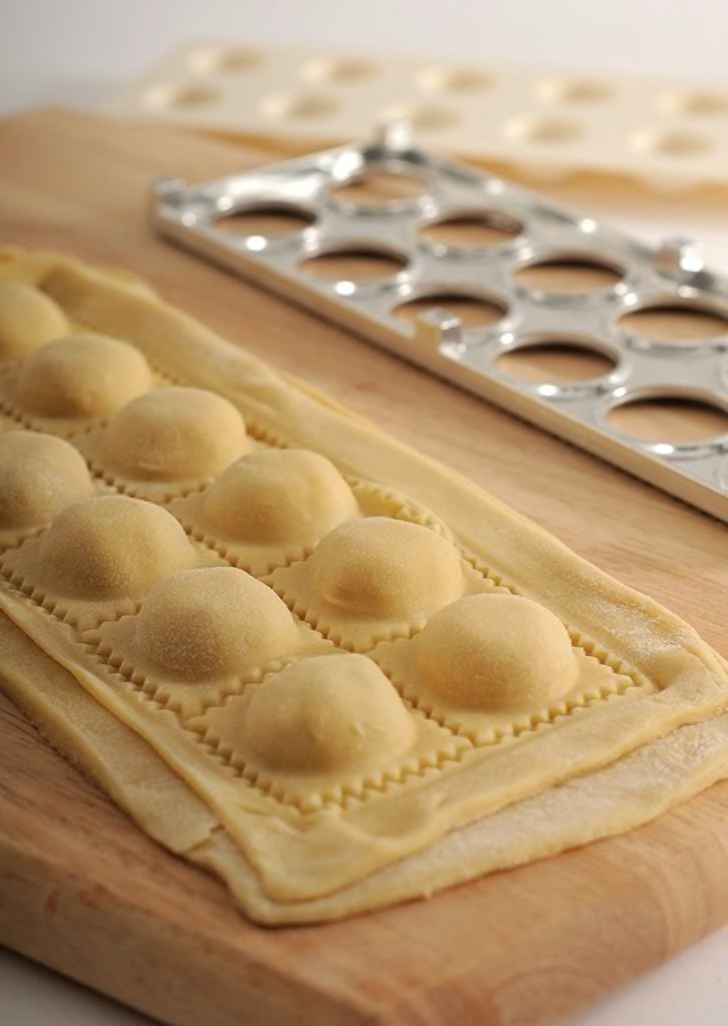 Let the carb loading commence. If you've struggled to get your ravioli to look their best, then this gadget can help you. This mold is excellent for making pasta, dumplings, stuffed cookies, and mini pies. No more need to worry about crimping the edges of every single piece of pasta you make with this tool you can know it will be perfect.
Buy It: Amazon
48. DACHSHUND DOG-SHAPED ICE CUBE TRAY; $6
Impress guests with these adorably-shaped ice cubes. These silicone molds shaped like dogs will bring fun to any drink you want to enjoy. You can even try to make popsicles, soaps, or cookies with these molds. If you want something to look like your canine buddy, these molds can make your culinary wishes come true.
Buy It: Amazon
49. HERB SAVOR; $28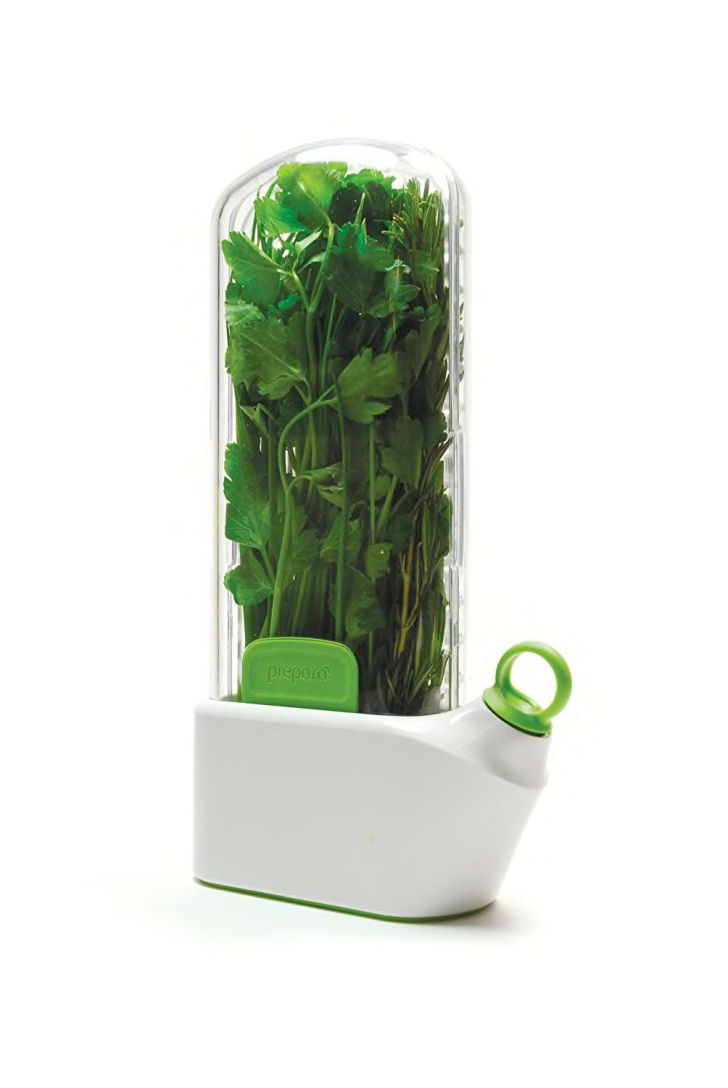 Anyone will tell you that fresh herbs are better than dried ones, but if you don't have a garden or a plant box it can be a challenge. The Prepara herb savor wants to help extend the life of your basil, rosemary, thyme, and other garden go-to's by placing them in the device's pod and sealing them tightly, and they'll last up to three weeks.
Buy It: Amazon
50. SPICE RACK WITH GLASS SPICE TUBE SET; $29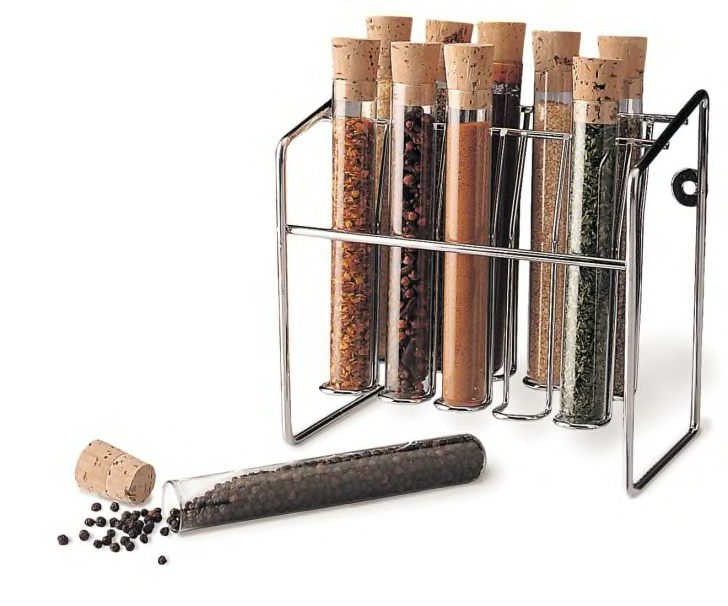 Muggles, rejoice! This 10-tube spice rack, meant to be filled with the seasonings of your choice, looks like it came straight from a shop on Diagon Alley. Enjoy the way all your spices look in each vial, lined up next to each other as if you are going to make a potion or science experiment. 
Buy It: Amazon
51. SALAD SPINNER; $30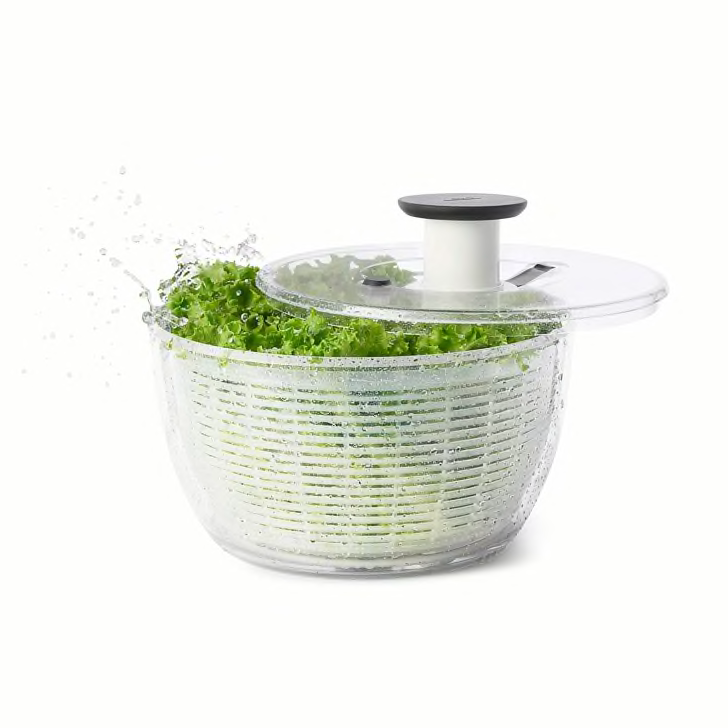 Despite its name, a salad spinner can do a lot more than dry your lettuce. Nitahara also uses his after washing herbs, and "whenever I wash mushrooms I always put them in the salad spinner as well," he says. "They soak up a lot of water."
Buy it: Amazon
Mental Floss has affiliate relationships with certain retailers and may receive a small percentage of any sale.