The internet has criticized an inconsiderate airline passenger who put their leg in their seatmate's legroom space, forcing her to squeeze her legs together in the small area left to her.
The woman, under the username u/deilyk, shared a picture of her space being invaded on Reddit, with a caption that read: "At least it was a short flight."
Data from the Federal Aviation Administration (FAA), shows that in 2022, as of August 30, there have been a total of 1,876 reports of unruly passengers, 650 of which have caused investigations to be started. As far as Newsweek is aware, no unruliness was reported due to the legroom space issues.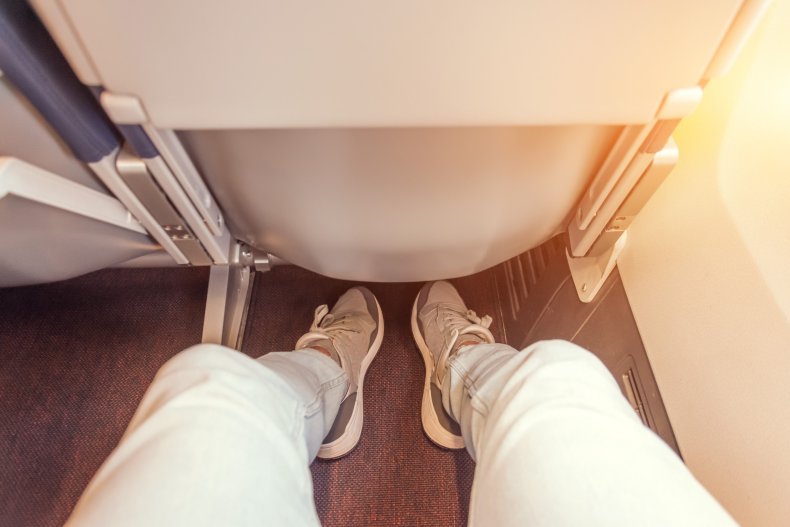 Security violations are excluded because those cases are handled by the Transportation Security Administration. The repercussions for unruly passengers can be substantial. They can be fined by the FAA or prosecuted on criminal charges, and these fines can go up to $37,000 per violation.
In August, a passenger who let their ponytail hang over their chair bothered the person behind them to such an extent that they complained about the incident on Reddit, with a post entitled "OC Why are people like this???"
The latest post, which was first shared on the r/mildlyinfuriating subreddit on Tuesday, has been upvoted over 10,500 times and received over 1,600 comments.
One user, Federal_Novel_9010, shared a similar experience: "Was on an Accela from DC to NYC and this woman next to me kept doing this. I would just shove her foot back over with mine. She got increasingly mad and started trying to read my texts on iMessage (from my laptop), so I just started blatantly texting about her and how this gross old lady had no manners."
And ArdenElle24 commented: "That's some passive aggressiveness I can get behind!"
Another user, StrictAsparagus24, asked: "Soo…did you say something or just accepted your fate, making the other person think it's ok to do that?"
And KieshaK suggested: "Could you move your foot please?" If they don't, then put your foot on top of their foot. If they wanna be in your space, they can deal with your feet."
Scully360 commented: "Generally speaking, I hate people." And Atom_Breaker joked: "You should help him move his leg by spilling some lotion on that ashy-a** man"
Another user, crujones43 said: "I'm a big dude and I suffer on airplanes because I put other people's comfort before mine. I'll turn my wide shoulders at the expense of my back being sore for days after.
"I always try to get an aisle seat so my mass has somewhere to go but I always get surprised by the drink cart smashing into me. I would not ever even ask a person if I could invade their space like that, never mind just doing it."
Newsweek has asked u/deilyk for comment.