Russian President Vladimir Putin granted citizenship to former US security contractor Edward Snowden on Monday.
Putin signed a decree offering Snowden, along with some 72 other foreign nationals, Russian citizenship.
The Kremlin published the list on their official website, without offering any comment on Snowden's citizenship. Snowden has not said anything yet either. 
The US State Deparment said it was not aware of any change in Snowden's American citizenship status, according to Ned Price, the Department's spokesperson.
Price added that Washington's position on Snowden has not changed. The US has long demanded Snowden to return to the US to face a criminal trial on espionage charges.
Who is Edward Snowden?
Snowden, who is 39 years old today, fled the United States after leaking documents about the US National Security Agency's (NSA) classified surveillance programs in 2013.
Snowden worked for the NSA, which is the US intelligence agency, from 2009 until 2013.
Reponsible for one of the most significant leaks of US poltiical history, Snowden requested for asylum from Russia in 2013.
He has since been living in Russia, and was granted permanent residency in 2020. At the time, Snowden said he planned to apply for Russian citizenship.
It is not clear whether Snowden has renounced his American citizenship. 
Snowden keeps a low profile since fleeing to Russia
Snowden's lawyer reportedly told Russian state news agency RIA Novosti that Snowden's wife Lindsay Mill, who is also American, will be applying for a Russian passport.
The couple had a child in December 2020. 
Snowden has kept a low profile in Russia, only occasionally criticizing the Russian government's policies on social media.
In 2019, Snowden said he would be willing to return to the US if he's guaranteed a fair trial.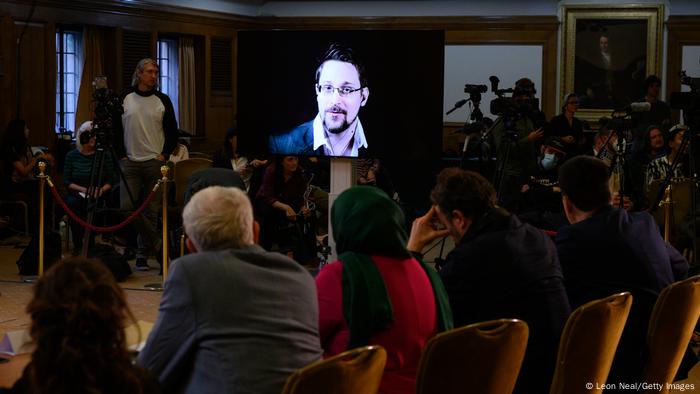 Snowden has frequently called for greater protection for whistleblowers
Snowden's brief timeline
Snowden was hired by the Central Intelligence Agency (CIA) in 2006 and posted to Geneva in 2007, where he worked as a network security technician under a diplomatic cover.
Snowden left the CIA for the NSA in 2009, where he worked as a private contractor for the companies Dell and Booz Allen Hamilton. It was during this time that he began gathering information on NSA activities.
In May 2013, Snowden requested a medical leave of absence from the NSA and flew to Hong Kong. In Hong Kong, Snowden met with journalists from British newspaper The Guardian that eventually broke the first set of revelations online. 
Soon, revelations followed in other American newspapers too.
In 2013, German news magazine Der Spiegel reported classified information by Snowden as well, detailing NSA bugging of European offices and leaders, including that of former German Chancellor Angela Merkel's phone.
In 2015, German prosecutors closed the case into the alleged tapping of Merkel's phone, saying that the "allegation could not be proven in a legally sound way under criminal law."
rm/wd (Reuters, AP)