An anti-littering billboard offering three ridiculous options for the question "Why are you littering?" is delighting one of Reddit's largest forums.
The original poster (OP), u/rocketboy44, shared the photo to the popular r/funny subreddit, which has over 42.6 million members and earned over 71,000 upvotes.
"Why are you littering?" the sign asks, offering "I'm Stupid," "I don't care about my city," "Mummy cleans after me" and "All of the above" as potential options.
Another photograph of the sign can be found on Pinterest, where it earned 27,174 points when posted by 9GAG. The Pinterest post identifies the sign as being in Johannesburg, South Africa in the Cresta area.
The angle of this alternate photo shows that the sign was posted by Guerrilla IMC. Guerrilla IMC is an African communications company specializing in outdoor advertising, and with the slogan "Battle Hardened Communications."
Guerrilla IMC Director Daryl van Arkel told Newsweek where the idea originally came from.
"Littering is a major bugbear of mine and I have been becoming increasingly frustrated by people's lack of regard for the environment, being a 'media owner' and able to influence people's behaviour positively was the driving force behind creating it," van Arkel said.
"The idea came to me quite quickly when brainstorming something hard hitting, it is my personality to push the boundaries and be blunt. I don't think asking people nicely was working and the government was doing no communication in this regard and I wanted something that really made people think about what they were doing to elicit a change their behaviour," he continued.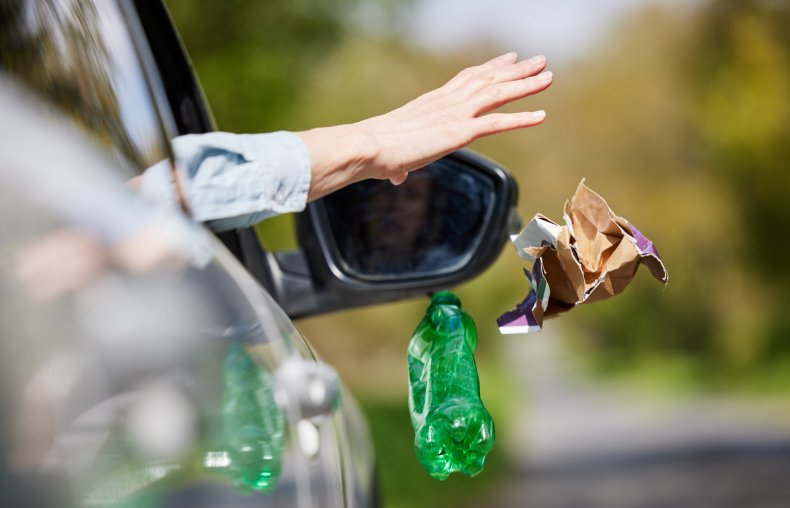 The campaign was launched in 2012, according to a press release from the company. The message was first posted on an unsold billboard—it's unclear whether or not u/rocketboy44's photo was recent, but in his picture, the sign does look significantly more weathered than in pictures taken closer to the sign's erection.
Guerrilla IMC also made an alternate, temporary version of the sign for the Earthdance music festival in 2012, which changed the color of the initial question from gray to green, and changed the second option to "I don't care about my planet," rather than "city" in the original.
"Guerrilla will begin using unsold sites to communicate to people that littering is not OK and we actually care about the way our city looks! We hope the wider industry takes up this gauntlet with us. We intend on using a hard hitting message in the hope that people will wake up to this issue, in fact the message may turn some heads!" van Arkel, director of Guerrilla IMC said in a 2012 statement.
The billboard was recently relaunched about nine months ago, running "constantly" on Guerrilla's digital billboards, van Arkel told Newsweek, and says the return of its virality is "amazing to see."
"Last year when I was in North of Durban on business I spotted another property owner had placed a sign facing the freeway with the same messaging, I was delighted to see this messaging going far and wide," he added. "I hope the message gets picked up by more Outdoor and other media owners, and have offered it free to the industry."
Though the sign initially went viral shortly after its posting, it appears the sign is due for another go-round on social media 10 years later, if the Reddit post is any indication.
"This reminds me of demand management research that tested which communications elicited the most action. And it was the 'your neighbors are doing better than you' one that had the most impact. Not 'do it to save money' or 'do it to save energy' … but 'you suck compared to others' lol," u/threwaweigh657 wrote in the top-rated comment with 1,900 upvotes.
"This is called the descriptive normative approach. There was a study about this. When hotels told guests '75% of guests resue their towels' vs 'please reuse towels to save the earth', the former message yielded more compliance," u/le_ramen_connoisseur added.
"Why would you check all the boxes if you have one for 'all of the above'?" u/Kazko25 asked.
"Well they said they're stupid didn't they," u/Commercial_Leg_5108 answered.
Newsweek reached out to u/rocketboy44 for comment.
Update 8/31/2022, 5:30 p.m.: This article has been updated with comment from Daryl van Arkel of Guerrilla IMC.